Medicare Supplement Plan N
A Rising Star In The Medicare Supplement Lineup
Changes to Medicare Supplements are set to begin at the end of 2019. These changes are removing certain Medicare plans from the lineup of options for new Medicare recipients. Namely, Medicare Supplements Plan F and C will no longer be available to you if you start Medicare after January 1st, 2020. These have historically been two of the most popular plan options because they are the most and second most coverage respectively. Like in sports, when 2 members of a starting lineup go away, others have to step up and deliver. Historically Medicare Supplement Plan N has taken a back seat behind these popular plans.  Starting January 1st, 2020, it's time for Plan N to shine as one of the premier Medicare Supplement options.
Medicare Supplement Plan N: Coverage & Benefits
Medicare Supplements are secondary insurance plans that help you cover deductibles and co-insurance with Medicare A & B. If you are experienced with Medicare, you may already know that each Medicare Supplement Plan is represented by a letter. That letter means a certain amount of coverage & benefits you get with the policy. Because Medicare Supplements are secondary insurance to Medicare, the coverage & benefits are related to the deductibles & co-insurance they cover for you. With that in mind, let's take a look at the Benefits Chart for Plan N.  On the left side you see costs that you have as a patient with Medicare A & B. On the right column, the star represents if Plan N covers that cost for you.
As you can see, Plan N covers most of Medicare A & B costs for you.  The exceptions are the annual Part B deductible and Part B excess charges. I will tell you more about Part B Excess Charges later on, so please stay tuned. As of this writing in 2019, the annual Part B deductible is $185 per year. This deductible typically changes slightly from year to year and is set by Medicare. One other thing not shown on the chart are Medicare Supplement Plan N co-pay's. If you have Plan N for your supplemental coverage you also pay $20 when you see the doctor and $50 for emergency room visits (if not admitted to hospital). You can view details about the Part A & B costs listed above by visiting Medicare.gov's Costs At A Glance.
Comparing Medicare Supplement Plan N With Other Top Plans
In the top 3 Medicare Supplement plans, Plan N currently sits at # 3 in popularity. Traditionally Plan F has been the most popular but has been overtaken by Plan G in recent years. With Plan F no longer being available to new Medicare recipients in 2020, I expect Plan N to step up and help fill this space. (Related article: Medicare Supplement Plans 2020).  Below is a benefits comparison chart for the top 3 Medicare Supplement plans so you can see how they stack up against each other.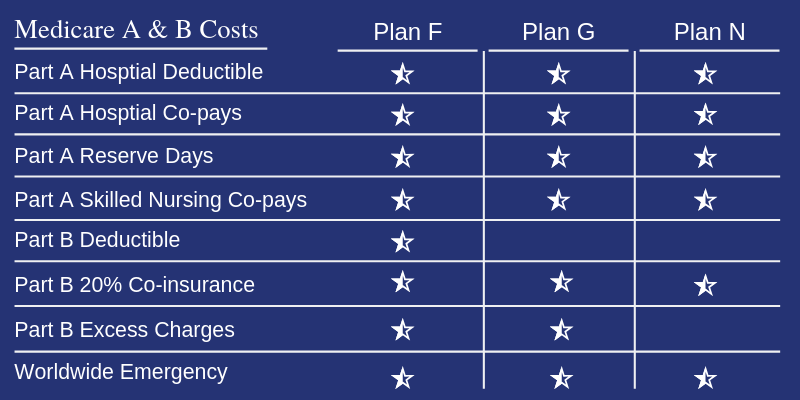 Part B Excess Charges – Plan N's Achilles Heel
As I've shown above, Medicare Supplement Plan N does not cover "Part B Excess Charges." So, what are they? You may have experienced "balance billing" in the past when your medical provider billed over the amount your insurance provider paid on. This can often happen with dental bills as many dentists don't accept the fee that the insurance provider pays on.  Balance billing is essentially what Part B Excess Charges are. Legally, physicians are allowed to bill up to 15% over the fee that Medicare pays on for any particular service or office visit. You see, Medicare has a fee schedule they publish which sets fees Medicare deems to be reasonable & customary for different doctors services. Let's take a look at an example of a fee for service and possible excess charge that can occur. Let's say you are covered by Medicare and you visit a dermatologist because you have something on your skin that you're concerned about. Let's also say that Medicare's fee for that service is $200. This particular physician accepts Medicare for insurance but does not accept Medicare's fee. The bill for this visit includes the $200 plus the 15% over that amount that the doctor is legally allowed to charge. If you do the math, the Excess Charge in this case amounts to $30.
Should I Be Worried About Part B Excess Charges?
As with any potential out of pocket medical cost, you should be concerned and prepared.  With this in mind, here is some information to paint the reality behind Excess Charges.
96% of physicians accept Medicare Assignment, meaning they accept Medicare's fee for service.
99% of claims are paid without an Excess Charge associated with them.
As of 2016, the average Part B Excess Charge was $10 when they occurred.
(Sources: kff.org and Aetna Senior Supplemental insurance.)
Statistically, as you can see, Part B Excess Charges rarely occur and when they do they are minimal. In addition to the statistics being in your favor, you can take an active approach in avoiding Part B Excess Charges. For this, there are two things you can do. 1. Confirm with your doctor or medical provider that they accept "Medicare Assignment." This means that they accept the fee that Medicare pays and do not charge over that amount. 2. Check with Medicare for specific doctors or the names of doctors who have agreed to accept Medicare Assignment and fees. Medicare has a useful website where you can generate a list or check on a particular physician. To do so visit https://www.medicare.gov/physiciancompare/ .
Who Is Medicare Supplement Plan N For?
Over the years Plan N has become the "Value" Medicare Supplement policy. The core benefit provided by Plan N is that you get essential coverage at a comparably low monthly rate. Monthly premiums for Plan N average between $75  and $110 per month, depending on your age,  zip code, and other factors. This is around $20 less per month than the next level of coverage with Plan G. In addition to having lower monthly premiums from the start, Plan N has low rate increases from year to year. Over time, Medicare Supplement rates can increase with age and the longer you've had the policy. Historically, Plan N has some of the lowest rate increases. In fact, there have been years where I've even seen premiums go down. These low rates and increases can be especially appealing to a person who wants to enjoy the benefits of Medicare Supplements but also wants to keep their premiums as low as possible.
With average monthly premiums between $75 and $110 per month, Medicare Supplement Plan N is around $25 less per month than Plan G and $60 less than Plan F. For someone looking for value supplemental coverage, this can be very appealing.
Conclusion
With Medicare Supplement Plan N you are only responsible for a few possible out of pocket costs. As mentioned above, these are; The Part B deductible, doctor and emergency co-pays, and Part B Excess Charges. With the annual Part B deductible at $185 and the co-pays at $20 & $50 respectively; These costs are manageable for most people. Also, as noted above, Part B Excess charges rarely occur and can actively be avoided. Besides these 3 costs, the large possible bills with Medicare A & B are covered, so your potential out of pocket costs are minimal. Plan N provides great coverage with very reasonable monthly premiums. As shown above, average monthly rates are between $75 and $110 per month.  In addition to lower rates from the get go, Medicare Supplement Plan N also has stable rates from year to year with minimal increases. Given, Medicare Supplement Plan N is not for everyone. If you want the most coverage and the best policy available, Plan G is probably your best option (Related Article: Plan G – The Best Medicare Supplement). But, if you are budget conscious and Plan N has the benefits you want; You should consider purchasing a policy.
Medicare Supplement Insurance is subject to your eligibility. We recommend you review the details of plans you are considering, including the Outline of Coverage. Get a Medicare Supplement plan comparison with top insurance providers and all the details you need to know. Click the button "Request Information" to get started.