Plan G – The Best Medicare Supplement
When learning about and shopping for Medicare Supplement plans, many often ask; Which is the best plan?  This question often subjective because "best" of anything often depends on your individual situation and preferences.  In the case of Medicare Supplements, this can be a good question because it helps cut through the clutter of information and available option.  With that said, If I were to list one plan as the best, it would definitely be Medicare Supplement Plan G. 
So, what does G stand for? Guapo, good looking, gorgeous? Due to it's popularity, you might think so.  Actually, G doesn't really stand for anything. One important thing to understand is that all Medicare Supplement policies are represented by a letter.  Because they are standardized and regulated by Medicare, that letter means you get a certain set of benefits. I like to refer to Plan G as the "Gold" standard.  It's not Platinum or Silver, but right in the middle of the top plans offering a great value. 
Plan G Coverage
As a Medicare Supplement, Plan G is a secondary insurance policy that helps you cover out of pocket costs under Medicare A & B.  If you only have Medicare A & B, you can be liable for deductibles & co-insurance (20%) up to an unlimited amount. These are your out of pocket costs known as "cost shares" when you receive medical care.  What having Plan G does is simple. It pays for these costs for you, all except one; The Medicare Part B deductible. In 2019 the Part B deductible is $185 for the year. So, If you have Plan G, your out of pocket medical costs are limited to $185 per year in 2019.  Pretty good right? You're starting to see why Plan G is so popular.
The chart below provides a simplified overview of what Plan G covers.  The Medicare Part A & B costs listed are the most common.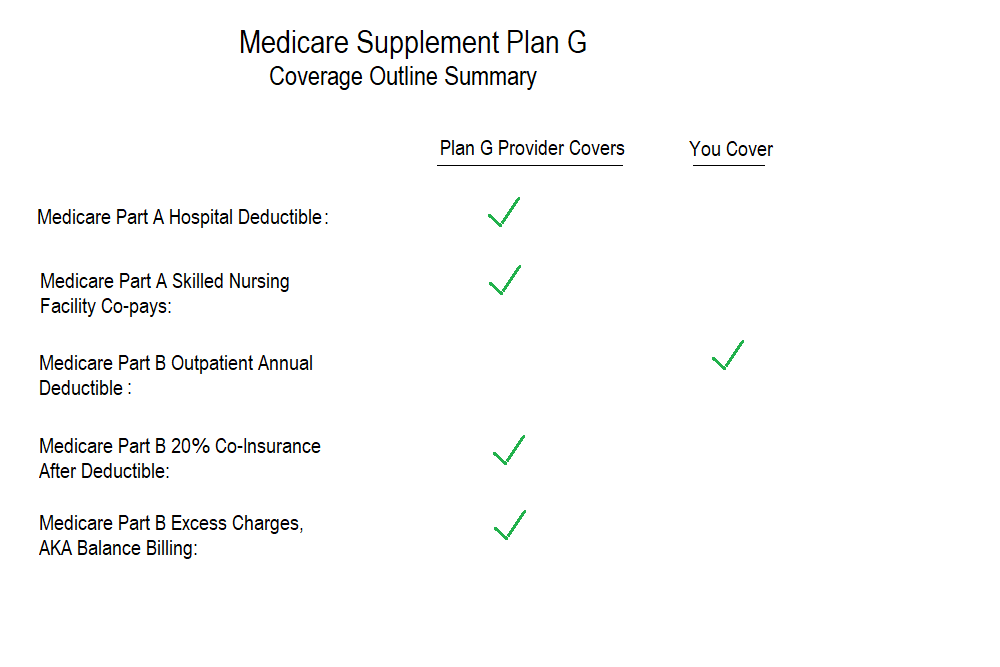 To reiterate, when you are covered by Plan G, you are only liable for the annual Part B deductible.  This deductible is set by Medicare and can change each year.  To see the most current deductibles and other costs, click here to visit Medicare's Part A & Costs page.
The chart above is a simplification that lists the most common  costs covered by Medicare Supplement Plan G.  If you are looking at buying a policy, you can ask for a full outline of coverage that will show more details.  One other important note.  Like all Medicare Supplements, Plan G will only pay it's share of services covered by Medicare.  So, in order to be covered, the medical care you receive has to be covered by Medicare A & B.
As you can see, Medicare Supplement Plan G provides great coverage and makes things simple for you.  By only having to worry about a small deductible each year, being covered by Plan G can give you great peace of mind.
Plan G Premium Costs
The second reason Medicare Supplement Plan G is so popular is that many find it to be a great value.  In terms of the top 3 Medicare Supplements that are most often chosen, Plan G is in the middle for coverage and premium costs.  Traditionally, Medicare Supplement Plan F has been the most popular plan; but not in recent years.  Plan F differs from Plan G very  slightly as far as coverage goes.  As I mentioned earlier, Plan G covers all of your costs under Medicare A & B except the annual Part B deductible.  Very simply, Plan F also covers this deductible.  So the only difference between Medicare Supplement Plan G and Plan F coverage, is the annual Part B deductible.  Which, as I said, is $185 in 2019.
So why isn't Plan F more popular?  It covers more.  As I said earlier, Medicare Supplement Plan F has traditionally been the most popular because it offers the most coverage available.  But coverage is only one factor. The second is what you pay to have the plan, a.k.a your premium cost.  Both plans are great coverage, keeping your out of pocket medical costs to a very low amount.  What makes Plan G so popular is it's combination of great coverage and value premiums.  The chart below gives you a comparison of the average monthly premium's for Medicare Supplement Plan G vs. Plan F.  The rates are for one of our major insurance providers, in one of our service area's in Texas.
As you can see, the difference in premiums for Plan G vs. Plan F is between $366 and $476 annually.  With the difference in coverage only being $185 and the premium being $366 or higher; this is why many Medicare Supplement buyers are choosing Plan G over Plan F.  Another thing to notice as well is that the cost difference gets larger as you get older.  One thing that I have observed over the years and that many in the industry are aware of is that Plan F has higher premium increases than Plan G over time.  This makes Medicare Supplement Plan G more stable in terms of costs, another benefit in comparison of the two.
Premiums vary based on your exact age, sex, tobacco status, and zip code.  We can provide you with more information on your eligibility for coverage and a personalized price comparison.  Click Here to navigate to our request information page.
Many folks who are on Medicare are seeking financial security, value, & peace of mind.  Either you are on a fixed income now or you know you will be in the future.  It's for these reasons that many choose to have more coverage through a Medicare Supplement Policy.  It can often be a challenge to find out which plan will give you the right combination of cost and benefits, so you have good coverage without over paying.  For many Medicare Supplement Plan G is the answer.  In an era of high deductibles and even higher premiums, it is a breath of fresh air.  By keeping your out of pocket costs to a small deductible,  while offering affordable premiums; Plan G has become the gold standard the best of all Medicare Supplements.
http://lonestarmedicare.com/wp-content/uploads/2022/09/LoneStar.logo2_.-original-remake-NoSlogan-jpg-300x163.png
0
0
Ben Rodriguez
http://lonestarmedicare.com/wp-content/uploads/2022/09/LoneStar.logo2_.-original-remake-NoSlogan-jpg-300x163.png
Ben Rodriguez
2018-12-10 22:23:34
2019-01-25 19:41:33
Plan G – The Best Medicare Supplement